Sunday Soccer
Sunday Practices offer players of all skill levels a chance to brush up on the basics, kick the ball around with friends, and get outside on those warm sunny weekends. From April through July, Sunday Practices are a great chance for newcomers to see what the Strikers are all about in a relaxed and fun environment and we welcome a wide variety of experiences/skill levels.
Strikers Pride Week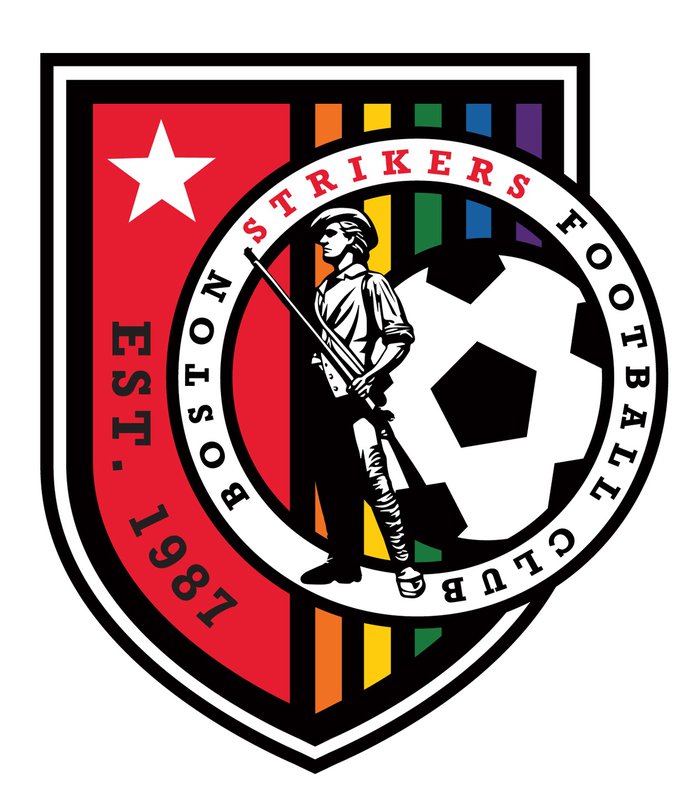 Celebrate Pride with the Strikers with a full week of events, with support from the New England Revolution!  
June 22 - Sand Soccer Tournament at Nahant Beach register
June 23 - Special Sunday Soccer Practice
June 24 - Celebrity Bartending with NE Revolution at Trophy Room
June 26 - Wednesday League Play at Rotch Playground
June 29 - Pride Night at Gillette Stadium with NE Revolution register
Check out our Calendar and Newsletter for more details.
Sand Soccer
Join us for a one-day sand soccer tournament on the North Shore to welcome the start of summer! The tournament will be a friendly, 5v5 format. Registration Fee is $25 per Player or Guest, which includes lunch and a little something something from us too. Guests are more than welcome to come and should also register on our website. We know it's not PTown but you are still going to end up being real thirsty, so make sure to bring a cooler for yourself.
We welcome players 18 and over of all skill levels, genders, and sexual orientations. So beach, please, join us for what promises to be a memorable day of sun and fun!
BOSTON STRIKERS
The Boston Strikers Soccer Club is a 501(c)(3) non-profit organization established in 1987 to give LGBT soccer players the opportunity to connect outside the traditional bar scene.  To this day, the club strives to offer players a space to make friendships through a sport that we all love.  The club runs leagues for all skill levels throughout the year.  We recommend trying out one of our Sunday Soccer Practices as an introduction to the league to see if you like what we're about.  Interested in receiving emails about upcoming leagues, events, and volunteer opportunities?  Visit the JOIN US page to register with your email address and we'll keep you up to speed on all things Strikers.  See you on the pitch!
Field Locations
Click venue below to highlight on map and see upcoming events